+44 (0)1372 459 942 or 750 843
Water Based Inkjet Media

Self Adhesive Fabric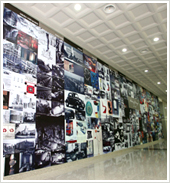 Features
Polyester woven and fine coated fabric with pressure sensitive medium tack.
Removable adhesive function
No Curl/wrinkle/Shrink
Tear free
Hardly any residue upon removal
Clean cut
Excellent Photo quality colour finish
Suitable for painted indoor walls or any smooth surfaces
Applications
Perfect for indoor and short-term outdoor applications glass, trade show stands, exhibition booths, etail display panels, temporary vehicle graphics, etc.
Compatible printers
HP Z (2100, 3100, 6100), HP Designjet, HP Latex, Epson Stylus, Epson GS 6000, Cannon, Encad, Roland etcPlease enquire for more information
sales@bogolimited.co.uk









Products
BG WRAP
Polyester woven self-adhesive fabric on back-liner. Medium tack and pressure sensitive, allowing it to be removed & reapplied for repositioning.
✓ Water-resistant matte surface
✓ Exceptionally high resolution & high definition results for the prints
✓ Easy to attach and remove on any smooth and flat surfaces
✓ Tear free & durable
✓ Good as it is for short term display (No lamination required)
✓ PVC Free
Description: Repositionable self adhesive Photo Fabric, 280 gsm
Thickness: 315㎛ (including back-liner)
Available width: 17, 24, 36, 42, 50, 60 inch
Roll length: 30M/ 3" core with 2" adaptor
BG WRAPW
Self-adhesive polyester fabric on back-liner with Opaque finish. It has 90% block-out effect.
✓ Medium tack, pressure sensitive adhesive
✓ It can be repositioned and reapplied
✓ Water resistant matte surface
✓ Exceptionally high resolution and definition printing result.
✓ Easy to apply & removable on smooth and flat surfaces
✓ Suitable for short term display
✓ Compatible with any branded printers using water-based inks
Description: Opaque, Repositionable self-adhesive fabric, 325 gsm
Thickness with a release liner: 312㎛
Available roll width: 42, 54 inch
Roll length: 30 meter / 3" Core with 2" adaptor
Not in UK Stocks – Please send your enquiry to
sales@bogolimited.co.uk