+44 (0)1372 459 942 or 750 843
Solvent Based Media

Flag Fabric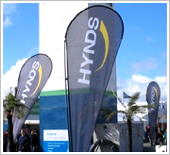 Features
Suitable for direct solvent-printed flag
Polyester knitted flag fabric on PP backing film
65~70 % Ink penetration onto the reverse side
The backing liner easily removable
Weather proof & water resistant
Produces much less garbage than other paper backing liner type
PP backing film is recyclable
Applications
Suitable for outdoor applications such as feather flags, Sail-flags, tear-drop flags, etc.
Compatible printers
HP Latex, Any types of solvent based inks








Products
BG SMP
Knitted 100% Polyester fabric treated with special inkjet coating and PP film for solvent-based inks.
✓ PP backing film prevent excess ink leakage
✓ PP backing film is easy to remove
✓ Excellent colour tone & ink penetration
✓ Compatible with all large format printers & solvent inks
✓ Perfect for indoor applications and short term outdoor applications; this is our most affordable flag fabric material.
Description: Slim, knitted flag fabric with back liner 150gsm
Thickness: 365 ㎛
Available roll width: 54" & 60"
Roll length : 30M/ 3" Core
Not in UK Stocks – Please send your enquiry to
sales@bogolimited.co.uk
BOGO LIMITED
Unit 30, Bookham Industrial Estate
Bookham
Surrey
KT23 3EU
United Kingdom
- Tel. +44 (0)1372 459 942
- Fax. +44(0)1372 750 843
- Email.
sales@bogolimited.co.uk